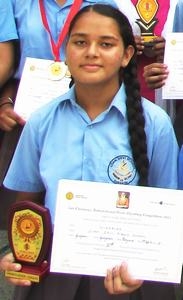 Niharika Singh Class VIII B 2015-16
Niharika Singh added another feather to her cap when she stood THIRD in the Centre Level of the 2nd International Bhagwad Gita Chanting Competition which was held on September 13, 2015. We are proud of you!
---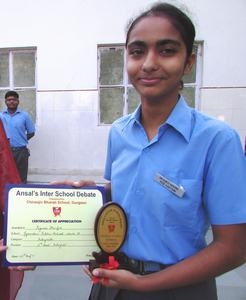 Piyushi Dhingra Class X A (2015-16)
Piyushi Dhingra of Class X A participated in the Inter-School Debate Competition organized by Chiranjeev Bharti School, Guragaon. The topic of the debate was – "Academic excellence cannot be a guarantee for success in the professional world". Piyushi was awarded the SECOND BEST INTERJECTOR AWARD as she showed her presence of mind and sharp intellect by asking a question which stumped the speaker. We are proud of you Piyushi.
---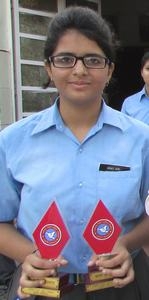 Richa Yadav Class XII A (2015-16)
Richa Yadav of Class XII A proved her mettle yet again by excelling in the Inter-School solo as well group singing competitions held in Gurgaon during the month of August 2015. We are indeed proud of our singers.
---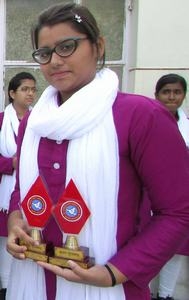 Mansi Yadav Class XI B (2015-16)
Mansi Yadav of Class XI B performed exceptionally well at various Inter-School Music Competitions held in Gurgaon during the month of August 2015. She was instrumental in the school being awarded the winning shield in all the three major competitions. Well done, Mansi!
---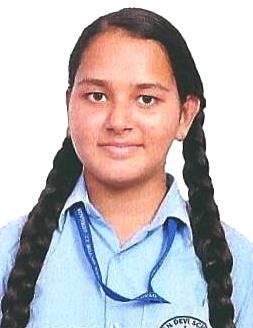 Niharika Singh: VII-B [2014-15]
Niharika Singh, is an all-rounder, excelling in both academics as well as extra-curricular activities. She has always participated in and won the merit award in the Chinmaya Mission Bhagwad Gita Shloka Chanting Competition. She also entered the final round of the Swami Vivekananda Quiz held at the Ramakrishna Mission, New Delhi. In addition, she has won a number of medals for best entry in the Camlin All India Art Competitions which are conducted regularly each year.
We are proud of you, Niharika.
---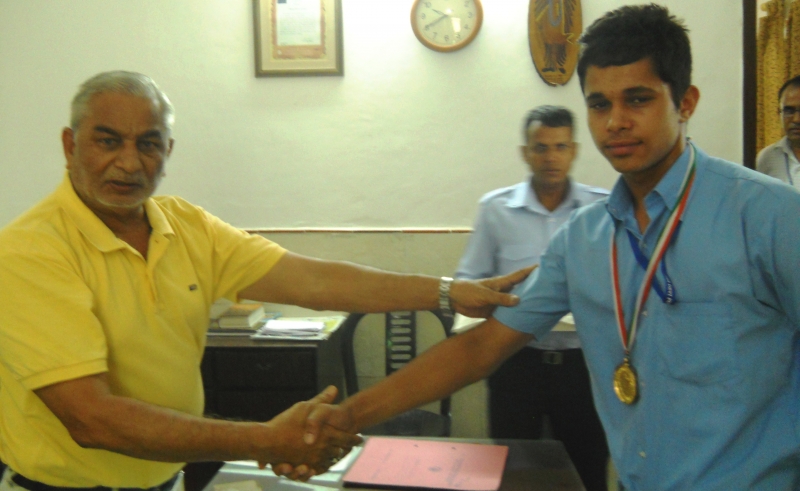 Sahil Dahiya: IX-B [2014-15]
Sahil Dahiya is a promising boxer who outdid himself by winning the gold medal in the Under-16 category of the District level Boxing Championship in the year 2014. With consistent hard work and single-minded dedication, Sahil can certainly make a name for himself in his chosen field.
---
Richa Yadav: XI-B [2014-15]
Richa Yadav can rightly be called the nightingale of Gyan Devi Public School. Blessed with a pure and melodious voice, she has won a number of Inter-School Singing Competitions, thus bringing laurels to the school. She sings with her heart and the effect is magical. We are sure that Richa will do justice to this God-given gift and carve a niche for herself in the field of music.
---
Yash Chauhan - IX-B [2014-15]
An outstanding student, Yash Chauhan has always been getting the 'Best in Academics' award each year. NIE, an offshoot of the Times of India, also selected him as the 'NIE Student of the Year' for the academic session 2014 to 2015. He was honoured with a certificate and a medal for the same.
Well done, Yash.
---
Kapil Yadav: X-A [2015-16]
A few students of our school participated in the Poster Making competition organized by the Indian National Trust for Art and Cultural Heritage(INTACH), for their quarterly newsletter. The competition, with the theme, 'Tiger Tales', was held all over India to spread awareness about conserving our natural heritage. Kapil Yadav X-A [2015-16] did the school proud by winning the Best Entry Prize. He received a certificate and a World Heritage Series book, 'Humayun's Tomb and Adjacent Monuments', published by the Archaeological Survey of India.
Capt. J S Yadav, the Chairman of The Gyan Devi Group of Schools, Gurgaon, felicitated the young achiever and encouraged him to continue the good work and bring more glory to his school and country.
---